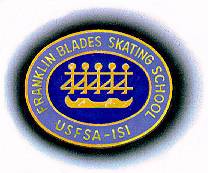 FRANKLIN BLADES SKATING SCHOOL
NORFOLK BLADES SKATING SCHOOL





General Information


FBSS * LTS BASICS - St. George's * Skating programs where team effort and good sportsmanship are stressed while individual goal setting and caring professionals combine to give your child the edge.
* A solid foundation of skating basics
* Competition & ice show opportunities
* A sense of accomplishment
* Friendships
* Everyone is special
Accolades
* Skaters qualified for State Games of America –all competitions since 2001
* 8th PLACE TEAM - WORLD CHAMPIONSHIPS '02
* 3rd PLACE TEAM TROPHY - NEW ENGLAND CHAMPIONSHIPS '02: '01: '99
* 5th PLACE - TEAM ISI WORLD CHAMPIONSHIPS '97
* TWO GOLDS - WORLD SYNCHRONIZED SKATING CLASSIC ISI '00
* TWO GOLDS - PRECISION CLASSIC '98
* TWO GOLDS, ONE SILVER - ISI NATIONAL CLASSIC, CHICAGO, IL '98
Cultural Exchange - England
Cultural exchange with the SkateLocks Skating School, Peterborough, England. Skaters travel to Peterborough for skating exchange and sightseeing. Families host, Skaters and friendships are formed.
Skaters represent Franklin Blades Skating School in USA ISI competitions.

The ISI recreational program includes all areas and levels of skating. More serious students progress through ISI levels to USFSA testing programs and competitions. Teaching and testing for advancement adheres strictly to ISI and USFSA programs.