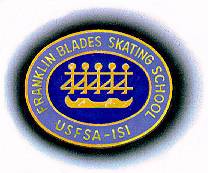 FRANKLIN BLADES SKATING SCHOOL
NORFOLK BLADES SKATING SCHOOL

Class Descriptions


BEGINNER - FREESTYLE - Learn to Skate
Learn sound skating basics. Children are divided by age & ability.
Badges can be earned and purchased at testing time.
25 min. lesson/25 min. practice.
Ages: 4 years and older
Equipment:
* Proper fitting single blade skates
* Helmet for children 7 and under
* All skaters must wear gloves/mittens
* Class size: No more than twelve skaters per class.


ADVANCED FREESTYLE - FS Levels
Smaller classes for those working on the Freestyle Badges. Learn basics of jumping and spinning. May earn badges and work for a solo program if desired. Moves in the field also taught.
Ages: No Limit
Requirements: Passed Basic 5 and have recommendation of the director.


HOCKEY - Learn to Skate
Basic skating skills for the hockey player. ISI Hockey Basics program.


ADULT PROGRAM
When possible adults are grouped separately and have their OWN practice ice. Badges may be earned, if skaters wish to be tested. Some adults choose to do cometitive skating.


SKATING CAMP
Variety of skating activities, coaches and fun events. Ice Exhibition for the public at the end of the week.
All levels are accommodated.


POWER SKATING
Strong power skating drills to develop endurance and good edge quality.
Requirements: Basic 4 level or Hockey LTS level 1


ICE DANCING - Interpretive
An introduction to the Preliminary, Pre-Bronze and Bronze Dances. An opportunity to learn interpretation of different kinds of music.


FREESTYLE
Advanced skaters: Ice purchased by the hour and is limited to 24 skaters.
Private lessons may be TAKEN on this ice.


SYNCHRONIZED SKATING
* Introduction to Synchronized - Learn line, circle, and block formations.
TOE-PICKS BEGINNER TEAM - Learn synchronized basics. Compete locally and away.
* PIXIES - Synchronized Team - YOUTH Compete locally and away.
* BLADES - Advanced Synchronized Team - Advanced skaters perform intricate moves to a variety of music.
Compete locally and away - NY, Bay State Games, Chicago, etc.
* All teams perform at Showtime.


CULTURAL EXCHANGE - ENGLAND
Our sister team exchanges with us every other year.
For those who like to travel and skate, form new friendships, this is for you.
For info call: Dorothy M. Cunningham 508-528-9263