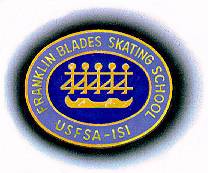 FRANKLIN BLADES SKATING SCHOOL
NORFOLK BLADES SKATING SCHOOL






About the Director
Dorothy M. Cunningham
Named Skating Director of the year ISI 2000, New England;
Winner - 1998 District 1 Skating Director's Merit Award at the ISI National Convention for her FBSS team standings and skating development in the district covering the New England States; combines her educational background with her knowledge of skating to produce a learning atmosphere which promotes team spirit and an appreciation of one another's efforts and abilities.

Judge at all State Games of America competitions since 2001.

Musical arranger/choreographer for solo and synchronized programs.

Coach of New England, ISI Worlds, and State Games of America competitors.

Students have become skating professionals coaching levels of skating and performing in Disney on Ice, Ice Capades and on World US Championship Synchronized skating teams.